CIE Speaker Series
CIE Speaker Series
Monday, March 28, 2011
Guest Speaker Guy Kawasaki

CIE Executive Director Dan Aguiar (left), SCU Alum Kerry Bradford and LSB Dean Drew Starbird (right) welcome Guy Kawasaki (shown above with his one of a kind Kawasaki Butterfly)
The Center for Innovation and Entrepreneurship welcomed Guy Kawasaki as our guest speaker for the CIE Speaker Series  on Monday, March 28, 2011. 

About Our Speaker:
Guy Kawasaki is the co-founder of Alltop.com, an "online magazine rack" of popular topics on the web, and a founding partner at Garage Technology Ventures.  Previously, he was the chief evangelist of Apple.  Kawasaki is the author of ten books including Enchantment (available in March 2011), Reality Check, The Art of the Start, Rules for Revolutionaries, How to Drive Your Competition Crazy, Selling the Dream, and The Macintosh Way.  He holds a BA from Stanford University, an MBA from UCLA as well as an honorary doctorate from Babson College.
Topic: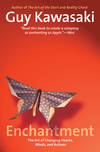 We look forward to welcoming Guy to the SCU campus for his talk on The Art of Enchantment.  In this speech, Guy explains how to influence people's hearts, minds and actions.  His message is that the goal is not to get your own way but to bring about voluntary, enduring and delightful change.  The power of enchantment enables you to maneuver through difficult decisions, break entrenched habits, defy the wisdom of crowds and get colleagues to work for long-term, mutually beneficial goals.  Topics include how to achieve likability and trustworthiness, how to overcome resistance, how to enchant people who work for you and how to enchant your boss.
All who were in attendance received a free copy of Enchantment, courtesy of the Center for Innovation & Entrepreneurship. Guy graciously stayed after the event for a book signing.  

---
Event Info
Monday, March 28, 2011
Recital Hall~Music & Dance Building
Santa Clara University
6:30 pm-7:00 pm
Check in/Registration
Complimentary Desserts
7:00 pm Program
More about the CIE Speaker Series:

On a quarterly basis, the CIE hosts the CIE Speaker Series- informative, entertaining events that feature a dynamic, leading entrepreneur or leader in innovation sharing experiences and advice with the SCU community, generating awareness of the role played by and importance of Innovation and Entrepreneurship.
Target Audience
The audience for the CIE Speaker Series includes SCU students and faculty as well as invited guests from the Silicon Valley business community and the CIE Advisory Board.
Format
The CIE Speaker Series provides attendees a unique opportunity to hear a first-hand account of stories in start-ups and breakthroughs in innovation and technology including challenges and lessons learned.  Presenters typically provide a 45 minute presentation followed by an informative 15 minute Question & Answer session.  

Location
All CIE Speaker Series events are held in the Recital Hall, Music & Dance Building.  Program time is 7 pm.


If you have a disability and require accommodation, call 408-554-5757 or email ljenkins@scu.edu 48 hours prior to the event.