Dear Friends of ESS,
Welcome back to the new academic year! There is so much excitement bustling in the hallways about summer experiences and new endeavors. Students and faculty have done research and community work literally around half the globe – ranging from Nicaragua to the Caribbean, France, Uganda, SCU and more. You can read about what they accomplished and learned in the articles in this issue.
ESS also welcomes academic year lecturer Dr. Franklin Graham to the team. Dr. Graham received a Ph.D. in geography from West Virginia University and has considerable research experience in Africa. He will be teaching ENVS 22 (Intro to Environmental Studies), ENVS 50 (World Geography), and ENVS 79 (Environmental Thought) in the 15/16 academic year in place of faculty who are on leave. If you have not met him yet, please stop by for a chat.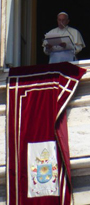 People of all denominations and people longing for greater environmental stewardship and help for the world's poor have felt a surge of energy and found plenty of discussion material in Pope Francis' new encyclical, Laudato Sí. Laudato Sí is a call for inclusive dialogue and action for environmental protection and the world's poor. Shortly after it came out this summer, I was privileged to see a joint march of faith and environmental groups greeted by Pope Francis on St. Peter's Square; it was a powerful moment to see these two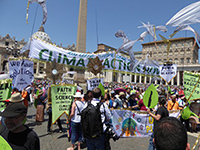 movements so demonstratively linked. At the request of SCU president Father Engh, ESS students Sean Reilly and Blair Libby and ESS faculty John Farnsworth and myself together with other SCU colleagues have spent time this summer organizing a conference named 'Silicon Valley in conversation with Laudato Sí'. Cardinal Turkson, thought to be one of the main authors of the encyclical, as well as other prominent thinkers will start our dialogue. We would be thrilled to see you there. Please see here for the program and registration information.
In the same vein, the Pope's recent address to the U.S. Congress was followed by a viewing of the speech and panel discussion here at SCU. ESS assistant professor Hari Mix was a member of that panel and shared information on climate change policy.
More developments are in the works. ESS is currently holding a search for a new tenure track line. Faculty and students are doing exciting research and teaching. We have many upcoming, exciting events, and we will have more to share in the next edition.
In the meantime - happy reading and happy Fall!
Iris
ESS Department Chair