Dear ESS Friends,
As the leaves are starting to turn on campus under the golden October sun, a warm welcome to all of you for the academic year 2016-17. To those of you who are returning, it is wonderful to see you so engaged in your classes, clubs, and projects. To our alumni, we are excited about the many ways you are building on the foundation you laid here at ESS in your professional lives. If you just joined ESS: We are glad to have you in our department – get ready, your time with us will just fly by. There are so many ways for you to get involved. Come to ESS seminars and events, or join the Sustainability Undergraduate Research Project (aka SLURP), the Green Club, Into the Wild, the Food Recovery Network, Fossil Free SCU, or one of the many other places where ESS majors are making a difference on campus and beyond.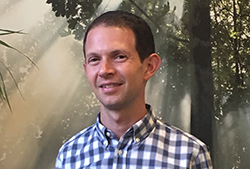 Many exciting things are taking place here at ESS. First and foremost, we had the pleasure to welcome our new tenure track faculty member in sustainable urban planning, C.J. Gabbe, to campus. C.J. received his Ph.D. at the University of California Los Angeles in 2016. His research work considers the impact and workings of land use regulations in the context of sustainable urban planning. C.J. has been the author of peer-reviewed articles, conference papers, book chapters, and policy reports in the field. During his Ph.D. work he was awarded several dissertation fellowships and he has professional experience as a project manager and as a consultant. At ESS, he will be teaching several courses in Sustainable Urban Planning, Environmental Studies, and GIS.
In addition, ESS is very fortunate to have a very talented crowd of new adjunct faculty on board, including Academic Year Adjunct Lecturer Ted Grudin, who is coming to us from U.C. Berkeley and is teaching in the Environmental Humanities.
Over the summer, ESS faculty and students conducted research across several continents, you can read about some of their experiences in this EnviroNews issue. Other exciting news is that John Farnsworth received this year's David Logothetti teaching excellence award in the College of Arts and Sciences – congratulations, Dr. John!
In addition, we have some terrific speakers lined up for fall, addressing topics from the management of freshwater ecosystems, to environmental justice, to zoning for the sustainable city. We also continue with our innovative curriculum, including a rebirth of ENVS 144, or "Baja", to a Natural History Lab course, as well as a new intensive writing core course called "Writing for the Birds." We will be offering, for the second time, an Intermediate GIS class, and a new course in Sustainable Urban Planning. We regularly hear from our alumni with reports of their jobs, fellowships, or graduate school experiences. If we have not heard from you yet, don't be shy, we would love to know where you are now and what you are doing, just send us a quick note. Did you know that alumni can audit classes? If you are interested, please see here . If you would like to make a contribution to ESS to support the great programs we offer, please follow this link or see the alumni challenge below.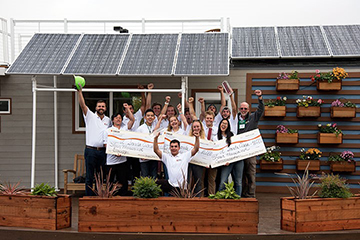 Finally, hot off the press…our very own George Giannos '18 (far left in photo, holding Fr. Reites' hard hat) served as the student construction lead for The rEvolve House, SCU's entry in the inaugural Tiny House competition. Read more about Tiny House
There is still so much more to tell you about - we hope you enjoy the following updates.
Iris Stewart-Frey
Department Chair
Environmental Studies and Sciences