Dear Students, Student Families, Alumni, and Friends,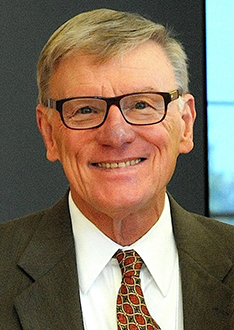 Academic Year 2018-2019 is off and running!! We're getting our fall issue of Primary Sources out early to invite you all to our celebration of Professor Bob Senkewicz and his more than FORTY years of service to Santa Clara University! Please help us send Bob off in style into this new, exciting phase of his life. The festivities will be held in Adobe Lodge on Monday October 1 from 4:30 to 6:00 PM, with brief remarks at 5:15 PM.
Looking forward to another productive and stimulating academic year.
Nancy C. Unger, Department Chair
Change in Senior Administrative Assistant

Well-wishers from all across campus gathered this summer to bid a fond farewell to Carole Wentz, pictured here at that celebration between University President Mike Engh, S.J., and Department Chair Nancy Unger.

The Department misses Carole, but is thrilled to welcome Melissa Sims as our new senior administrative assistant. Melissa comes to us with a wealth of SCU experience and has already hit the ground running. She's ensured that the department continues to run smoothly and expertly, and that the front office remains a warm and welcoming place.

Welcome New Faculty!

We are delighted to welcome David Tamayo to the first of a two-year position as an Inclusive Excellence Postdoctoral Fellow. He recently completed his PhD at the University of California, Berkeley. During the interview process we were able to witness first-hand his captivating teaching style as well as get a glimpse into his important research into middle-class conservatism in Mexico from the 1920s to the 1970s. His emphasis on the influence of international businessmen's philanthropic associations, such as Lions and Rotary, makes a variety of contributions to the history of Mexico, the United States, and the larger international community. Welcome Dr. Tamayo!

Also joining us for the first time is Michael Brillman, who earned his PhD at the University of Chicago. Having taught with great success there as well as at De Paul University, University of Mary, and Florida International University, Dr. Brillman is undaunted by the wide range of courses he'll be teaching for us in the coming year. He is the author of many scholarly publications, but considers himself first and foremost a teacher. We're thrilled to be bringing his enthusiasm and expertise into our classrooms.

History Faculty in Transition

Professor Naomi Andrews is the new Director of the University Honors Program! We regret that she'll have less time to spend in the department, but are gratified on behalf of the entire university that she will be bringing her expertise and enthusiasm to this vitally important program. We are confident that her leadership will benefit individual students as well as further cement the university's reputation as the site of truly exceptional learning and achievement.

Welcome Back David Skinner!

Professor David Skinner spent much of his spring 2018 sabbatical working on his epic co-authored book project "The Historical Dictionary of Sierra Leone," including research into colonial economic history in special collections in the Republic of Ireland and Scotland.
Congratulations Harry Odamtten

Special congratulations to Professor Harry Odamtten and his wife Clementine, who became parents to Simone on June 28th. Simone joins big sister Sadie and big brother Simon.

Professor Odamtten also lent his expertise to Ghana News source Myjoyonline.com, sharing his insights into Ghana's efforts to implement a multi-track education system, especially concerns about its ability to change academic performance.

From left: Professors Tom Turley and Barbara Molony with two conference attendees

Barbara Molony

On August 2-4, Professor Barbara Molony organized and implemented on our beautiful campus a very successful conference of the Pacific Coast Branch of the American Historical Association. It was the prestigious organization's 111th annual meeting and, by all accounts, one of the very best, thanks to Prof. Molony's tireless efforts!

Newly Published Essay

Professor Nancy Unger capped off her summer with the publication of an essay. "Personal, Political, and Professional: The Impact of Carolyn Merchant's Life and Leadership" appears in After the Death of Nature: Carolyn Merchant and the Future of Human-Nature Relations.
Even in summer our History students are accomplishing great things made possible in large part by our gift fund!

Haley Butler

Haley carried out a summer internship in the city archives in Washington DC.

Maggie Debrovner

At the beautiful and historic Filoli Gardens, as part of the College's REAL (Real Experience, Actual Learning) program, Maggie carried out archival work.

Jackie Melberg

Learn firsthand about Jackie's internship with Filoli's Architectural Survey.
Aaron Willis '04

Aaron (history minor) left his position as lecturer in the History Department to become Director of the Bannan Forum. Although the department misses Dr. Willis as a star lecturer in History, we are proud that he has taken up the important work of promoting the Jesuit, Catholic character of Santa Clara University through public lectures, seminars, and other programming targeted at students, faculty, staff and the larger public in Silicon Valley and beyond.

Brandon Sanchez '18

The ink isn't yet dry on the diploma of Brandon Sanchez, yet he's already doing us proud as a Joseph A. O'Hare fellow at America: The Jesuit Review with his article on the 2018 Video Music Awards.
Please keep us posted on your activities and interests, and
THANK YOU FOR YOUR SUPPORT!!
Your gifts make possible many student opportunities!
---
Have an idea for a story? Have exciting news you'd like to share?
Join the conversation.
Santa Clara University
Department of History
O'Connor Hall
500 El Camino Real, Santa Clara, CA 95053
Phone: 408.554.4527
historydepartment@scu.edu