Dear Students, Student Families, Alumni, and Friends of History,
It is with mixed feelings that I contemplate starting this new academic year. After the rejuvenation that summer brings, the fall quarter is always especially exciting. And this fall brings us a new University President, Interim Provost, and Interim Dean--so much new leadership! But it also marks my last quarter as History Department Chair! While I won't miss some of the challenges of administration, I will miss the many opportunities this position has brought. Over the last three years, it has been rewarding to work with my truly excellent and supportive colleagues in a different capacity, develop relationships within the Dean's office and across the College, get to know our accomplished and generous alumni, and interact with students beyond the classroom.
Special kudos to Melissa Sims, who, like her predecessor Carole Wentz, is a truly extraordinary Senior Administrative Assistant and a wonderful partner in running the department. Thanks too to Professor Matthew Newsom Kerr, who served admirably as Summer Chair for the past three years.
I am looking forward to resuming more teaching and having time to devote to my next book project. But I won't be retiring from administration! I am vice-president (and therefore president-elect) of the Society for Historians of the Gilded Age and Progressive Era (SHGAPE). Holding a leadership role in SHGAPE has already proved to be more challenging--and more exciting--than I had anticipated.
I am very pleased to announce that the History Department will be especially busy this fall as we launch searches for TWO positions in American History! We will be hiring a new tenure-track professor specializing in 1877 to present, and a permanent Lecturer specializing in pre-colonial to 1877. After so many retirements, it's thrilling to be revitalizing our permanent faculty!
Nancy C. Unger, Department Chair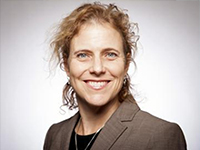 The Department will be fortunate indeed on January 1, 2020, when Professor Amy Randall becomes chair. Although she is still raising children (and very active in their lives), Amy is an incredibly popular (and challenging) teacher and a prolific scholar--so much so that she was promoted in the spring and begins this academic year as a full professor!
Amy's courses include the Soviet Experiment; The Holocaust; Ethnic Cleansing and Genocide in the Twentieth Century; The History of Sexuality; Reformers & Revolutionaries in Tsarist Russia; Gender, Race, and National Identity in 20th-Century Eastern and Western Europe; and Identity and "Other" in the Shaping of the Modern World. Her essays and articles have appeared in prestigious venues, including The Journal of Women's History, and her book-length publications include The Soviet Dream World of Retail Trade and Consumption in the 1930s (Basingstoke, UK and New York: Palgrave Macmillan, October 2008), and the edited collection, Genocide and Gender in the Twentieth Century: A Comparative Survey (Bloomsbury Academic Publishing, 2015). Among her many current projects is an updated and expanded second edition of Genocide and Gender in the Twentieth Century, expected 2020. Amy will bring her characteristic passion, conscientiousness, and verve to her work as chair.
| | |
| --- | --- |
| | Professor Muiris MacGiollabhui joins us for the coming year, teaching primarily the Cultures and Ideas sequence. He just completed his dissertation "Sons of Exile: The Transnational History of the United Irishmen, 1791-1827" at UC Santa Cruz. An Irish national, he earned his undergraduate degree at University College Dublin. He is the author of "'Carrying the Green Bough': The Transnational Exile of the United Irishmen, 1791-1806," in The Yearbook of Transnational History (Fairleigh Dickinson University Press, 2019). His research interests beyond Irish and immigration history include several time periods in the United States as well as Atlantic and Caribbean history plus the histories of slavery, radicalism, and political thought. |
| | |
| | Alexandro Jara completed his History degree at SCU in 2009. We are delighted that he'll be able to teach a Latin American course for us this fall as he completes his dissertation under the auspices of the University of New Mexico. |
---
Recent Faculty Achievement
| | |
| --- | --- |
| | Professor Paul Mariani, SJ published "The Extremely High Stakes in the China-Vatican Deal" in International Religous Freedom: The Rise of Global Intolerance. He also contributed to a story reported in four outlets about a rare exhibit of Jesuit artists' work in China. |
| | |
| --- | --- |
| | |
| | Professor Barbara Molony presented "#MeToo in the Historical Profession" in a panel on "Confronting Sexual Misconduct in SHAFR and the Profession" at the annual conference of the Society for Historians of American Foreign Relations in Arlington, VA, June 20-22. She was also quoted in New York magazine concerning Japanese comedian Naomi Watanabe. |
| | |
| --- | --- |
| | |
| | Professor David Skinner is the new director of AIMES, the Interdisciplinary Minor in Arabic, Islamic, and Middle Eastern Studies and published this review. |
| | |
| | Professor Tom Turley presented "Three Dominicans and Marsilius," in the session on Marsilius of Padua in Context at the International Congress on the Study of Middle Ages held at the University of Leeds, UK, July 1-4. |
| | |
| | Professor Nancy Unger is the proud winner of the 2019 Sisterhood is Powerful award, which honors a faculty or staff member who has made important contributions to the status of women at SCU. She also published, on the eve of the centennial of women's suffrage, the second of two articles on the role of Belle La Follette in achieving votes for women: "Belle La Follette's Fight for Women's Suffrage: Losing the Battle for Wisconsin, Winning the War for the Nation." |
| | |
| --- | --- |
| | |
| | Roshan Rama '16 is taking his many talents to Duke University, where he began law school this fall! |
| | |
| | Kori Lennon '14 is the new president of SCU's staff senate. |
Alumni Achievement
| | |
| --- | --- |
| | According to John Tracy Spaight '93, "people need to hear that a broad-based liberal arts education is the best preparation for life - and not just for the employment!" He adds, "the only skills that will really matter [in the future] are creativity, ability to write well, to lead, and think critically. That's why History is valuable." You can read here all the amazing things that he's done with his history education. And look for his book Buried in Burma in 2020! |
Have an idea for a story? Have exciting news you'd like to share?
Join the conversation.
Santa Clara University
Department of History
O'Connor Hall
500 El Camino Real, Santa Clara, CA 95053
Phone: 408.554.4527
historydepartment@scu.edu