Dear Students, Student Families, Alumni, and Friends of History,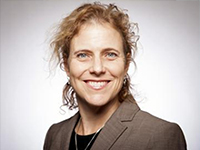 It is an exciting time to become the new Chair of the Department of History! By the end of this winter quarter, we will have three new hires -- two in U.S. history and one in Latin American history. The ideas, experiences, and expertise these new professors will bring to the department will energize us all, and the new courses they develop will significantly enrich our curriculum. When these new faculty members join us next fall, we will also have a new Dean of the College of Arts and Sciences and a new Provost. I am thrilled that I will be able to lead the department during this transitional period.
The extraordinary leadership of our former Chair, Nancy Unger, made these new hires possible. Her strong relationship with the Dean's Office, positive vision for the department's development, tenacity in pushing to realize this vision, and open communication with colleagues allowed the department to flourish under her leadership. A huge thank you to Nancy Unger for all that she has done!
Amy E. Randall, Department Chair
---
Student Activities Fall 2019
| | |
| --- | --- |
| | The History Club hosted its annual Pizza and the Profs, always a popular event. |
| | |
| | Students gathered to play the perennial favorite, Secret Hitler, a game of political intrigue set in 1930s Germany. |
| | |
| | The student journal, Historical Perspectives, was awarded Second Prize in the 2019 Gerald D. Nash History Journal Award. The journal includes student work edited by students Maggie Debrovner and Bailey Fairbanks, with advising from History faculty Naomi Andrews and Amy Randall. |
| | |
| --- | --- |
| | Paul Mariani, S.J. and History students introduced the SCU community to the History Department at the annual Open House. |
Barbara Molony received the 2019 "Rachel Fuchs Memorial Award for Excellence in Mentorship and Service to Women/LGBTQ in the Profession" and presented a paper at Oxford University.

Naomi Andrews published her essay "The Woman Question: Liberal and Socialist Critiques of the Status of Women" in The Cambridge History of Modern European Thought, which appeared in January from Cambridge University Press. She published a second article in Slavery & Abolition, A Journal of Slave and Post-Slave Studies.

Harry Odamtten spoke on a panel "Publishing Africa and Africans: Myths and Realities" as part of Michigan State University's Year of Global Africa celebrations held in August 2019. After the panel, a launching was held for his book Edward W. Blyden's Intellectual Transformation: Afropublicanism, Pan-Africanism, Islam, and the Indigenous West African Church. Odamtten also co-edited the special edition of the Journal of West African History honoring the sixtieth anniversary of Ghana's independence.

Nancy C. Unger hosted SCU's artist in residence, Rhiannon Giddens, in her Women's History class. Giddens performed songs she had written based on the primary sources of enslaved women from the antebellum United States. She also answered students' questions about this work and her other artistic endeavors.

Nancy C. Unger also gave the talk "Incorporating LGBTQ Subject Matter into U.S. History," to teachers from Freemon Union High School District. In addition, she presented a one hour webinar "LGBTQ History--Supporting Diversity in Research and Teaching, and Why it Matters," to the Association of College & Research Libraries (ACRL), sponsored by ProQuest. And in October, she presented "An Illustrated Sampling of LGBTQ+ History: More Than the Stonewall Riots," at NASA.

Amy E. Randall was honored to be asked to return to her alma mater, Wesleyan University, to serve on the history panel for the Shasha Seminar for Human Concerns. This seminar is an educational forum for Wesleyan alumni, parents, and friends that provides an opportunity to examine global issues. This year's seminar was Understanding Russia: A Dramatic Return to the World Stage, October 11-12, 2019.
Alumni News
| | |
| --- | --- |
| | Teresa Rupp '80 is a professor of ancient and medieval history at Mount St. Mary's University in Emmitsburg, MD. She shared that she uses material from her time at SCU every day. She is also the author of the blog, "The Scholarly Dilettante." |
| | |
| | Kyra McComas '16 is a fourth-year medical student at the University of Utah School of Medicine who has a passion for historical literature and writing in addition to her zeal for medicine, humanism, and patient care. |
Have an idea for a story? Have exciting news you'd like to share?
Join the conversation.
Santa Clara University
Department of History
O'Connor Hall
500 El Camino Real, Santa Clara, CA 95053
Phone: 408.554.4527
historydepartment@scu.edu