Dear Readers
The History Department is delighted to share with you our latest news. We hope you'll enjoy seeing what we've been doing in the past few months. Please don't hesitate to get in touch with the department if you would like to contribute your ideas and information to our community.
Barbara Molony, editor
Message from the Chair
After a difficult start to the winter quarter with the spread of Omicron and the pivot once again to online teaching, meetings, and events for the month of January, things are looking up at Santa Clara University. The wisteria is blooming, the spread of COVID-19 has slowed, and we have started the spring quarter, which involves a lot of work but also a lot of celebrations, particularly of student accomplishments. In addition, we have a new SCU president to look forward to. Nonetheless, I want to acknowledge the continued struggles that many of us face due to the pandemic, and to express my gratitude for the perseverance of SCU faculty, students, and staff alike. THANK YOU! As a Soviet historian and genocide and gender studies scholar, I would also like to recognize the horrific Russian invasion of and war in Ukraine. Russian armed forces are committing tragic crimes against Ukrainian citizens and others based on lies and distortions of history – including false charges of genocide against Russians living in Ukraine and deliberate disinformation about the need to "denazify" the country and its leadership. We must stand against Russian aggression – whether directed against Ukrainians now or Syrians and Georgians in the not-so-distant past.
I wish you all the very best,
Amy E. Randall, Professor and Department Chair, and Associate Director for the Center for the Arts and Humanities
Michael Brillman

Designed, developed, and taught a popular new course, Global 1968, and a published new monograph on Sir Antony MacDonnell.

Alejandro Jara

SCU History alumnus and current adjunct lecturer earned his Ph.D. researching how Latinos and other immigrant groups contribute to urban revitalization while staying connected to their mother countries.

Amy Randall

In addition to publishing the second edition of her book, Amy participated in two SCU panels on the war in Ukraine.

Matthew Specter

Published the results of a decade of research, The Atlantic Realists: Empire and international Political Though Between Germany and the United States.

Nancy Unger

New articles on women environmentalists and new presentations on the Gilded Age.

More faculty news: Steven Gelber, Meg Gudgeirsson, Marwan Hanania, Art Liebscher, S.J., Paul Mariani, S.J., Barbara Molony, Matthew Newsom Kerr, Tom Turley, and Greg Wigmore.
History Club
During the winter quarter, the History Club hosted 4 events: a movie night, a trivia night, and 2 game nights. History Club members were excited to see some new and familiar faces, and they hope to see many students at upcoming events. This spring quarter, History Club has already held a game night, and it has planned an upcoming "Pizza with the Profs" event. The History Club has been working on fundraising by selling face masks and water bottles. To purchase items, see: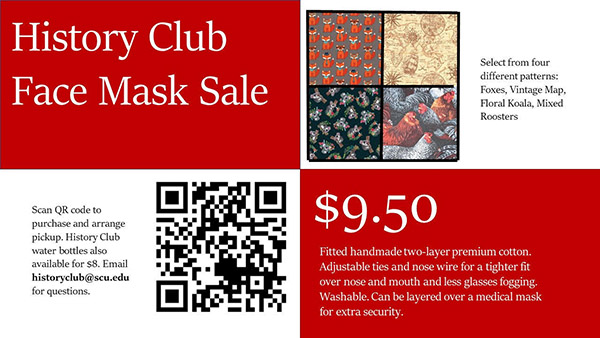 Phi Alpha Theta
Congratulations to the Historical Perspectives student editors, Brandon Schultz and Tegan Smith, for winning 1rst place in the Phi Alpha Theta's Gerald D. Nash History Undergraduate Print Journal Competition for 2021. Winning this national award is a huge accomplishment! Peruse this issue, Volume 25 (2020).
History Department Student Summer Research Stipends
The history department is pleased to announce a new summer stipend of $1000 for rising seniors in the History major or minor who are planning to do an honors history project in their senior year. These fellowship stipends will support students in doing preliminary research for their theses/projects and can be used to travel to archives and libraries as well as purchase resources and materials pertinent to their research. This year's applications are due by May 2.
Alumni Corner
We reached out to a few recent History alums currently in or about to enter graduate programs in History or related fields. We will feature alums in a variety of areas in subsequent issues of Primary Sources.
Haley Butler '20

Pursuing a master's degree in London

Madison Givens '18

Publishing graduate school research that began at SCU

Brandon Sanchez '18

Experience in journalism and heading to UC Berkeley.