Chair's Note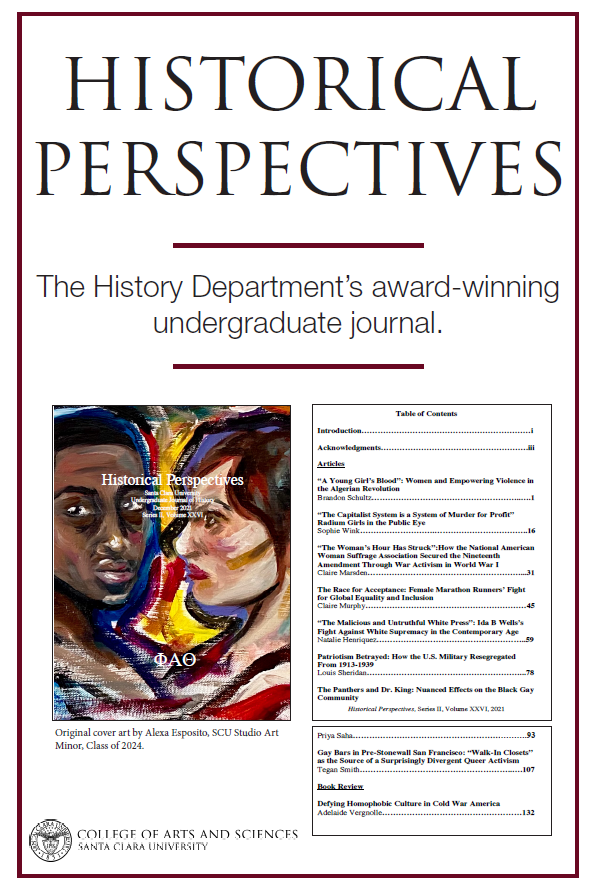 As the weeks of the winter quarter fly by, I want to share some amazing news! The 2021 issue of Historical Perspectives, the History Department's undergraduate research journal, has won first place in the national competition for the 2022 Gerald B. Nash Journal Award issued by Phi Alpha Theta, the national history honor society. It is the second year in a row that the journal has won first place, and it is the 5th year in a row that the journal has won 1st, 2nd, or 3rd place. Many thanks to the student co-editors, Sydney Shead and Sophie Wink, the faculty advisor, Naomi Andrews, and the student authors for producing such an excellent issue. Student authors include Natalie Henriquez '22, Claire Marsden '22, Claire Murphy '22, Priya Saha '22, Louis Sheridan '21, Brandon Schultz '21, Tegan Smith '21, Adelaide Vergnolle '23, and Sophie Wink '22. Read this award-winning issue.
Amy E. Randall, Professor and Department Chair, History Department, and Associate Director, Center for the Arts and Humanities
Mateo J. Carrillo

Mateo J. Carrillo presented an invited paper "Disparate Development, Gendered Geographies: Ejidos, Inequality, and the Maquila Industry in Ciudad Juárez" for the Center for Latin American Studies Lecture Series at Stanford University.

Naomi Andrews

Naomi Andrews presented the paper "The mobile metaphor of slavery and the development of French antislavery sentiment" at the Western Society for French History meeting in November in Victoria, BC.

Marwan Daoud Hanania

Marwan Daoud Hanania gave an online presentation for an audience in Jordan at the German-Jordanian University in late October on the history of Amman as part of a symposium on the modern heritage of the Arab world.

Matthew Specter

Matthew Specter was asked to contribute to a Forum on political realism and the Ukraine war by the German social philosophy journal, Analyse und Kritik.

Matthew Newsom Kerr

Matthew Newsom Kerr will be giving a paper at the upcoming annual conference of the 19th-Century Studies Association in Sacramento.
One of Marwan Daoud Hanania's students from C&I Islamic Cultures (HIST 11A), John Lee, produced an impressive genealogical chart of Prophet Muhammad's family tree and some of the dynasties in Islamic history.

History Club

The History Club has been very active. On Jan. 20 they hosted a French Revolutionary Salon with coffee, tea, and snacks. On Feb. 3, they hosted a pizza night. And on Feb. 16 they brought together students to test their knowledge with a Kahoot game night.
Faculty Activities and Achievements
Matthew Newsom Kerr was awarded a University Research Grant to support a research trip to archives in London and Gloucester, UK in December.

Nancy Unger's Lesbian and Gay History class was taped by C-SPAN on January 20 and will air as part of C-SPAN's "Lectures in History" series sometime in March. The C-SPAN producer who viewed the recording had special praise for our students: "it was great to see how involved the students were – that always helps make these 'Lectures in History' pop." This will be Nancy's fifth appearance on C-SPAN. The first four can be viewed here.

Michael Brillman's and Meg Gudgeirsson's Slavery and Unfreedom (HIST 11A and 12A) classes welcomed Dr. Khalid el-Hakim, who is the creator of the Black History 101 Mobile Museum, to their classes on February 13. Dr. el-Hakim spoke to their students in dialogue with course themes and highlighting objects in his collection.
The History Department's student employee, Naomi Sneath, has been brightening up the Department's hallway with faculty and student spotlights. She has also put together a board on each month in history.

Pre-registration Event

On Feb. 8, the Department invited History majors and minors to a Pre-Registration to secure their enrollment in spring classes. Students and faculty chatted about all things history during the event while drinking their favorite boba beverages.