Dear Students, Student Families, Alumni, and Friends of History,
Well THAT academic year sure went by in a hurry! It was action-packed and very productive.
On June 14 we held our annual celebration of the department and its students. Now the faculty are in that bittersweet period. We're so proud of our graduating majors and minors—but also so sorry to see them go. This year's class was really special!
The good news is that many outstanding students will be returning next year, including some of the prize-winners noted below.
After some down time to recharge our batteries, the department is eager to find what 2019-2020 holds in store!
Wishing you a glorious summer,
Nancy C. Unger, Department Chair
The History Club hosted another movie night, screening the film Selma following an introduction to provide expert historical context.

Students gathered to play the perennial favorite, Secret Hitler, a game of political intrigue set in 1930s Germany.

Jeopardy! competition was fierce in this game featuring questions submitted by faculty for categories such as "SCU History," "Historical Geography," and "Empires."

Read the latest version of our multi-prize winning student journal Historical Perspectives.

This year's student editors of Historical Perspectives, Bailey Fairbanks and Maggie Debrovner, represented the department at the dean's reception on family weekend.
| | |
| --- | --- |
| | The McPhee Prize, established in 2007 through the generosity of Lulu and John McPhee, is given to the student who authored the most outstanding paper in a senior seminar. This year's McPhee winner is Marie Fagetti for her paper "Racism and Radicalism: Minority Responses to the Conflation of 'Immigrant' with 'Radical' in the Progressive Era." |
| | |
| --- | --- |
| | |
| | Established in 1908, the Redwood Price is given to the student who writes the best essay on a historical subject. Hansung Lee took this honor for his paper "A Bubble of the American Dream: Experience of Asian students at key universities in the midst of racist movements in Progressive-Era California." |
| | |
| --- | --- |
| | |
| | Our newest prize, the Giacomini, is awarded to a history major or minor for the best-researched paper based on primary resources. Liam Byrnes was awarded the Giacomini for "'To hell with the Constitution!' How Theodore Roosevelt Acting Abroad Undermined Progressive Reforms as Home." |
| | |
| --- | --- |
| | |
| | The Mehl Prize, established in 1993, is given to the student who writes the best senior thesis. Cooper Scherr won this year's prize for "Medicine Infected by Politics: The American Occupation of Haiti, 1915-1934." |
| | |
| | History majors may be selected for graduation with Honors in History provided they have a grade point average of 3.5 or higher in their history courses and complete a senior project. Three students graduated with Honors in History: Cooper Scherr, Maggie Debrovner, and Bailey Fairbanks. |
| | |
| | Early this spring, the Department also initiated new students into its chapter of Phi Alpha Theta, the National History Honor Society. |
Class of 2019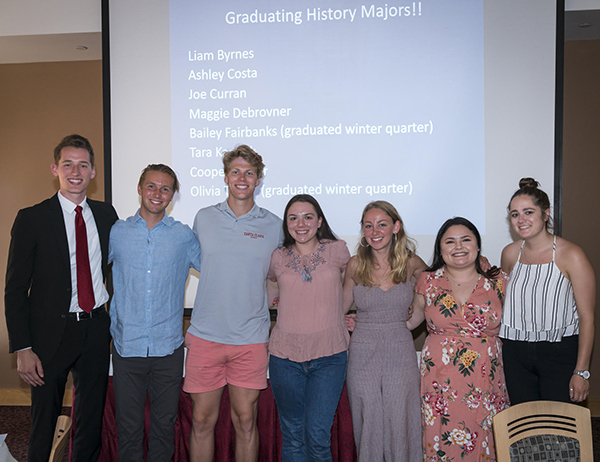 So proud of our graduating seniors!!!
Professors Greg Wigmore and David Tamayo (with a little help from their wives) proudly introduced members of the SCU class of 2037.

Professor Wigmore and Nina.

Professor Tamayo and Dante.
Professor Harry Odamtten earned tenure!!!!! And his book Edward W. Blyden's Intellectual Transformations: Afropublicanism, Pan-Africanism, Islam, and the Indigenous West African Church will be released this summer. But don't wait-- you can preorder on Amazon!

The article "The Romantic Socialist Origins Humanitarianism," by Naomi Andrews, appears in the latest issue of the prestigious journal Modern Intellectual History, published by Cambridge University Press.

Professor Michael Brillman published "Into the Arms: U2, America, and the 1980s" in New Hibernia Review/Iris Eirennach Nua.

Professor Nancy Unger was proud to speak in support of the Humanities at this year's Golden Circle.

She also gave a presentation at the Organization of American Historians meeting in Philadelphia and another at her alma mater Gonzaga University.

She published "Legacies of Belle La Follette's Big Tent Campaigns for Women's Suffrage," in American Journalism and wrote two essays NOT about the La Follettes: "Personal, Political, and Professional: The Impact of Carolyn Merchant's Life and Leadership" in After the Death of Nature: Carolyn Merchant and the Future of Human-Nature Relations, and "Barren Lands and Barren Bodies in Navajo Nation: Indian Women WARN about Uranium, Genetics, and Sterilization" in Medicine and Health Care in the Countryside: Historical Approaches and Contemporary Challenges.

Professor Paul Mariani, S.J. published "The Rise of the 'Underground' Catholic Church in Early Reform-Era China" in Review of Religion and Chinese Society.

He also gave papers in Hong Kong as well as Berkeley, was quoted in The Atlantic, and was featured in SCU's Illuminate.

Fr. Mariani socializes with student Ashley Costa and a special guest.

Professor Barbara Molony co-authored "Academic Activists: The Coordinating Council for Women in History at 50" for the Coordinating for Women in History, of which she is co-president. She also presented three conference papers (one in Stockholm) and wrote a reference entry "Feminism in Japan."

Professor Tom Turley published "History and Legitimacy in the Dominican Responses to John of Pouilly," Inventing Modernity in Medieval European Thought, ca. 1100 - ca. 1500.

Professor Greg Wigmore presented "Reputation, Power, and Patronage in the Early Canada-US Borderland" at the annual meeting of the Canadian Historical Society.
| | |
| --- | --- |
| | The History Department is proud to feature Michael O'Sullivan '10, Ph.D. candidate in History at UCLA. Read in his own words how his time as a history major at SCU shaped his exciting career path. |
| | |
| --- | --- |
| | Professor Emeritus Bob Senkewicz and his wife Professor Rose Marie Beebe won the Book Club of California's 2019 Oscar Lewis Award for their outstanding contributions to the field of Western History. The awards committee cited, in particular, their book Junipero Serra: California, Indians, and the Transformation of a Missionary. |
| | |
| | Peter O'M. Pierson, Lee and Seymour Graff Professor of History, Emeritus, has signed a contract for the second edition of his 1999 book History of Spain. Two of his former SCU students who became history professors with Spain their chief field, David Reher, '70 (University of Madrid), and Enrique Sanabria, '91 (University of New Mexico), shared with him their thoughts on Spain's recent history and current developments. In 2015, Professor Pierson moved to the desert near Palm Springs where he gives occasional history series for UC Riverside Osher Institute-Rancho Mirage program. He can be reached at ppierson@scu.edu. |
Have an idea for a story? Have exciting news you'd like to share?
Join the conversation.
Santa Clara University
Department of History
O'Connor Hall
500 El Camino Real, Santa Clara, CA 95053
Phone: 408.554.4527
historydepartment@scu.edu