Dear Students, Student Families, Alumni, and Friends of History,
Happy 2019!! We hope you enjoyed restful, joyful holidays! The History Department is back in swing with an impressive slate of classes and NO faculty member on leave or sabbatical. A full house!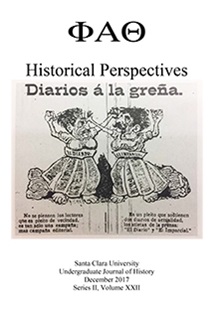 And we already have a truly fabulous achievement to celebrate: Our student journal Historical Perspectives won second prize in the competition for the 2018 Gerald B. Nash History Journal Award issued by Phi Alpha Theta, the national history honor society. This prize follows our 3rd place prize in 2017, 1st place in 2013, and 2nd place in 2011 and 2009. Student editors were Katherine Porter '18 and Emma Chen '18, and students who contributed essays to the current prize-winning issue are Emma Chen '18, Katherine Porter '18, Joe Curran '19, Victoria Juarez '18, Hector Navarro '17, Neil Datar '17, Michelle Runyon '17, Amanda Dahl '17.
With the leadership provided by this year's student editors Maggie Debrovner and Bailey Fairbanks, and the guidance of continuing faculty advisors Naomi Andrews and Amy Randall, we've set our sights on FIRST place in the 2019 competition.
Looking forward to more achievements by our wonderful students and faculty.
Nancy C. Unger, Department Chair
Under the guidance of Professors Michael Brillman, Meg Gudgeirsson, and David Tamayo, our History Club and Phi Alpha Theta chapter each hosted an event in the fall.

Students enjoyed an ever-popular "Pizza with the Profs" as well as a showing of "Monte Python and the Holy Grail," complete with a historical introduction!

The History Club capped off the quarter with a rousing game of Secret Hitler, involving political intrigue and betrayal set in 1930s Germany.
| | |
| --- | --- |
| | At the Dean's convocation this fall, Department Chair Nancy Unger won the 2018 Joseph Bayma S.J. Scholarship Award of the College of Arts and Sciences, given "In recognition of having established among colleagues and students a well-deserved reputation for productive, meaningful, rigorous scholarly or creative work, and for having demonstrated the ability to motivate other scholars or artists, teachers, and learners." |
| | |
| | Not to be outdone, at the Provost's convocation for the entire university, Professor Harry Odamtten won the 2018 Francisco Jiménez Inclusive Excellence Award for Faculty, given in recognition "for outstanding commitment and excellence through diversity and inclusion through service and dedication to Santa Clara University and the greater community." |
| | |
| --- | --- |
| | In his first year with us, Professor Michael Brillman has really hit the ground running! This fall he presented "'One Man Betrayed with a Kiss:' The Arrest, Trial, and Execution of Sir Roger Casement" at the American Conference for Irish Studies' Western Regional Conference in Jackson Hole, WY. He also published his first novel! Rebels 79: The Iconoclast, the Prophet, the Commando and the Bleeding Heart follows four musicians blurring the lines between the sacred and the profane in the 1970s. |
| | |
| | Amy Randall accepted the invitation of the National Endowment for the Humanities to be a reviewer for a Media Project Grant program panel, evaluating film television, and radio projects. |
| | |
| | Nancy Unger can't get enough of the La Follette family and its contributions to America's progressive tradition. She provided the chapter on the extended family for Modern American Political Dynasties: A Study of Power, Family and Political Influence. She also presented "Legacies of Belle La Follette's Big Tent Campaigns for Suffrage," at the Annual Meeting of the American Journalism Historians Association, Salt Lake City on October 7, 2018. |
| | |
| | David Tamayo presented his article in progress "Becoming Sembradores: Conservatism and the Politics of Apolitical Service Clubs in Mexico, 1920-1960" at a department research colloquium. History colleagues were thrilled to have the opportunity to comment on his original and well-supported manuscript to be published in Mexican Studies/Estudios Mexicanos. |
| | |
| | Meg Gudgeirsson was interviewed for The Junto about the History of Childhood and Youth in four 19th Century religious communities in the United States. |
| | |
| --- | --- |
| | Roshan Rama '16, who has been working in San Francisco as a consultant for Deloitte, was selected as a John Jay Fellow at the John Jay Institute near Philadelphia. Its mission: "preparing principled leaders for public service." The fellowship runs from January to June, after which Roshan hopes to attend law school with the ultimate goal of becoming a judge advocate in the United States Armed Forces. |
| | |
| | You may not recognize Guy Marzorati '13 from his picture, but if you're a listener of KQED radio, you'll know his voice. |
Please keep us posted on your activities and interests, and
THANK YOU FOR YOUR SUPPORT!!
Your gifts make possible many student opportunities!
---
Have an idea for a story? Have exciting news you'd like to share?
Join the conversation.
Santa Clara University
Department of History
O'Connor Hall
500 El Camino Real, Santa Clara, CA 95053
Phone: 408.554.4527
historydepartment@scu.edu