Note from the Chair
Dear Alumni and Friends,
I hope this newsletter finds you all well. We have crossed the one-year anniversary of the pandemic, and we have since learned to make music in so many new ways. It has not been easy. Making music remotely is a different kind of animal, and we all miss playing together in the same room; but the spark of creativity and the desire to continue being in community through music is what keeps us going. We would like to share with you some of the work that our music students and faculty created during the Winter of 2021. Stay well and we hope you enjoy the words and sounds we bring to you below.
Bruno Ruviaro
Chair, Music Department
| | |
| --- | --- |
| SCU Choirs | |
| This quarter, the Concert Choir and Chamber Singers created different kinds of projects. The creative process for the pieces, including repertoire selection and visual components was largely student-led and resulted in two pieces. The sopranos and altos of Chamber Singers recorded Andrea Ramsey's Lineage. The visuals included pictures of the singers' grandmothers and other strong women who inspire them. We were visited in Concert Choir by composer Jocelyn Hagen in preparation for our video project of her Controlled Burn, a piece she wrote in collaboration with Hip-Hop artist, Dessa. For this project, the choir really wanted to find a different kind of accompaniment for choral music that might not have been possible if the performance were in-person, so we created a synthesized arrangement of Jocelyn Hagen's original chamber orchestra score for this project. | |
Jazz Concert

On March 10, 2021, the Jazz Band & Combos invited listeners to take in the magic of colorful performances created by our students. From classic to contemporary, they explore the intricacies of jazz across the ages. The majority of the pieces in this concert were selected by the students themselves. Students each recorded material in a collaborative process to generate this show. In weekly meetings, the students had an opportunity to critique each other's work and share their personal experiences. Under the expert direction of our Director of Jazz Studies, Carl Schultz, students learned a lot -- not only jazz performance but also the unique skills required to record and produce the videos. Please enjoy.
---
University Orchestra

The University Orchestra kicked off 2021 and our Winter Quarter with a virtual concert hosted by SCU Presents of our fall quarter performances. The orchestra has pursued a wide variety of music-making, recording both synchronous and asynchronous music, and working on solos as well as chamber music. Both winter and spring quarters include a large ensemble recording project which will be featured in the departmental fusion broadcast at the end of spring quarter. We're glad to have found a way to still make music together, as well as feature some of our outstanding musicians.
---
SCLOrk

While gearing up for the full Laptop Orchestra class in the Spring, SCLOrk (the Santa Clara Laptop Orchestra) performed a virtual chamber concert at a Music At Noon concert on February 24, 2021. From amplified household objects to Mars landscapes, SCLOrkers Aastha Chawla, Josh Mitchell, Michael Noonan, and Bruno Ruviaro (director) performed live on YouTube using JackTrip, a special program designed to send high-quality sound over the internet at very low latencies.

Listen
Scot Hanna-Weir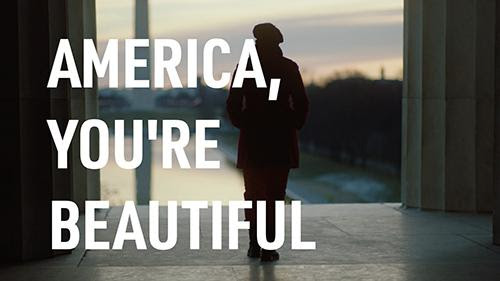 Prof. Scot Hanna-Weir's new score was featured in America, You're Beautiful. Baltimore/DC-based chamber ensemble Bridge premiered America, You're Beautiful, a short film conceived in response to the Black Lives Matter movement made in collaboration with The Poet Life and poet Nina Brewton. The film was released on Thursday, February 25th and features a new score by Scot Hanna-Weir (Music), written for and performed by Bridge, and a poem, written and performed by Virginia-based poet Nina Brewton. Baltimore-based cinematographer Tyler W. Davis, fresh off a Sundance Festival debut (Baltimore's own Strawberry Mansion), captured the film on location at the National Mall and Black Lives Matter Plaza in Washington, D.C. this winter.
In June of 2020, during the weeks of national outcry and mourning following the death of George Floyd, Bridge reached out to a previous collaborator, Christoph Jenkins (The Poet Life), to brainstorm a project that would respectfully respond to this tragedy, contribute meaningfully to the movement to protect black lives, and help to amplify the voice of a black artist.
Bridge, courtesy of The Poet Life, commissioned poet Nina Brewton to write a poem in response to these events. Scot Hanna-Weir composed a wordless soundtrack designed solely to support Brewton's poetry, which Bridge recorded remotely from home studios. The poem and underlying musical score both draw inspiration from "America, the Beautiful".
Ray Furuta

Prof. Furuta was invited to co-teach for Latin Grammy Award-Winning Composer, Gabriela Lena Frank's "Creative Academy of Music" this quarter. During the weekend-long seminar, Prof. Furuta mentored and coached emerging composers-of-color along with fellow flutist, Nathalie Joachim. The seminars included flute practicum sessions on writing for the flute, new flute music repertoire class, and professional development/fundraising for careers in music. The session culminated in Gabriela Lena Frank proposing to compose a brand-new piece for solo flute herself and commission one of her fellows to compose a brand-new Concerto for Flute and Orchestra for Prof. Furuta!
Santa Clara University
Department of Music
500 El Camino Real, Santa Clara, CA 95053
Phone: 408.554.4428
music@scu.edu