Note from the Chair
Dear Alumni and Friends,
Happy New Year! We hope that this newsletter finds you all well. We would like to share with you some of the work that our music students and faculty created during Fall 2020. As you will see (and hear!), Music has continued to play a crucial role in linking us together through the difficult final months of the year. Stay well and we hope the words and sounds below will bring you some joy and hope.
Bruno Ruviaro
Chair, Music Department
Dana Jauco

Soprano Dana Jauco performed her senior vocal recital completely online on December 11th. She designed her program as the story of her development as a singer, from her first classical performances in high school through selections from Sondheim's Anyone Can Whistle and Aaron Copland's The Tender Land. She further displayed her vocal and musical versatility by including jazz selections recorded with a piano solo and also with members of SCU's Jazz Ensemble. Dana was a student of Debra Lambert, pianist Elizabeth Neff accompanied. During her tenure at SCU, Dana was a member of Concert Choir, Chamber Singers, and Jazz Combo.
Cathy Yin

A member of Chamber singers' and a student in Nancy Wait-Kromm's voice studio, Cathy Yin, was featured as a soloist in Vivaldi's Gloria with the Cal Arte/San Jose Symphonic Choir's virtual recording on December 20th, 2020. Cathy learned, prepared, and virtually recorded the "Laudamus Te" duet for this production by the Cal Arte ensemble. Cathy was praised for her performance's accuracy and attention to Baroque performance practice.

Listen
Sophia Flores & Henry Rusak

Sophia and Henry were hand selected by Mosaic Silicon Valley (a leading and local multicultural arts and humanities non-profit) and its Executive Team, to become executive interns over the course of the quarter. Through this internship, they were tasked with the challenge of mapping the cultural communities of Silicon Valley. They also had the opportunity to assist with virtual event production including its annual hummingbird circle in partnership with Villa Montalvo and the San Jose Museum of Art, honoring the local Ohlone People and their culture.
Gabe Reed

Last summer, junior Gabe Reed won First Place in the state-wide Concerto Competition sponsored by the Music Teachers Association of California. He competed in the 19-24-year-old age category and performed the first movement of the Rachmaninoff Piano Concerto No. 1. Several months previously, Gabe had the honor of performing the same work with the SCU Orchestra in the Mission Church as one of the winners of the Music Department's annual Concerto/Aria Competition.
| | |
| --- | --- |
| | |
| Rhiannon Giddens and Francesco Turrisi performed for Music at Noon as part of the Sinatra Fall 2020 Residency presented by the Center for the Arts and Humanities. | |
Music At Noon
SCU's Sinatra Artist in Residence and Grammy-winning musician, Rhiannon Giddens, with special guest multi-instrumentalist, Francesco Turrisi, joined us during our Music at Noon course and did a live virtual performance—their first during Giddens' Fall Residency at SCU. Both Giddens and Turrisi incorporate the history of music into their sound, bringing context and emotion to the forefront, and thus illuminating the universality of music and the commonality of the human experience.
---
Wind Ensemble

The SCU Wind Ensemble was delighted to have four special virtual guest speakers in the Fall of 2020.
John Devlin, Music Director of the Wheeling Symphony Orchestra, spoke to students in a conversation focused on Music in the Community. A leader in designing concerts that frame orchestral music in inventive ways, Devlin's mission is to make the symphonic art form attainable and engaging for all audiences.
Enrico Lopez-Yañez, Principal Pops Conductor of the Nashville Symphony Orchestra shared a wealth of experience in creating a concert experience for audiences of all ages. Enrico spoke of his work bringing Hispanic Communities together through orchestral music.
Rachel Zephir, Director of Bands at Eleanor Roosevelt High School and former brass coordinator for the Baltimore Symphony Orchestra "Orch Kids" Program. Rachel spoke about her work with Baltimore's El Sistema program, bringing music to inner-city students of Maryland.
William Lake Jr., Associate Director of Bands at SUNY Potsdam spoke about creating access for all students, especially those in underrepresented communities, to music education.
---
SCU Choirs
SCU Chamber Singers: Live from Everywhere
After they "embraced the lag" in the first live-remote performance by a university choral ensemble in the country after the outbreak of COVID-19, the SCU Chamber Singers returned to present a short concert of semi-synchronous pieces. Using the collaborative audio networking software Jamulus, the Chamber Singers performed Byrd's classic motet, Ave Verum Corpus, and an adapted version of Ysaÿe Barnwell's Would you Harbor Me? While it still doesn't replace the experience of singing together in the same space, it did provide our students a much more similar experience to live music making that they deeply appreciated.

Listen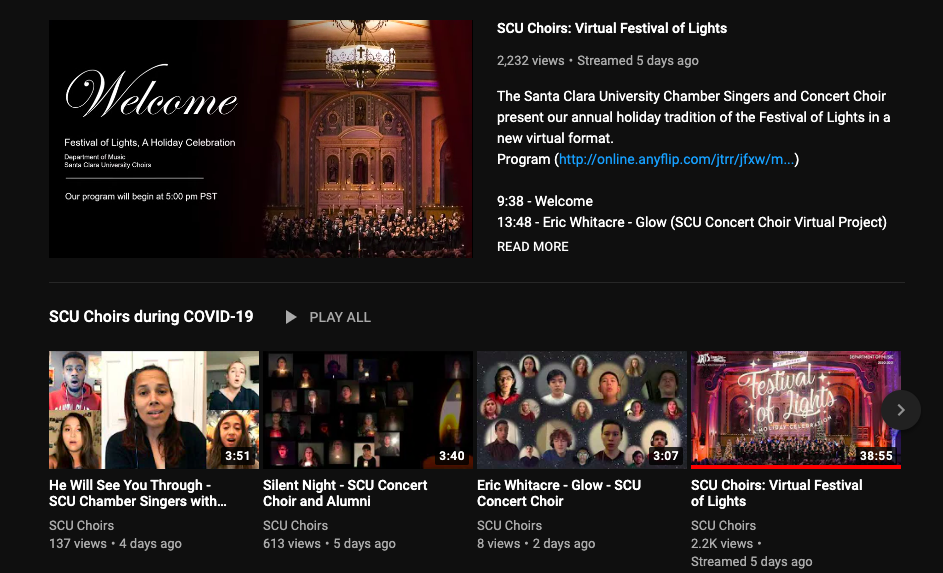 Festival of Lights
For more than two decades, the annual Festival of Lights has signaled the beginning of the holiday season for so many in our community. But in those years of performances of carols and candles, there has never been a concert quite like this. In the midst of the global pandemic, choral ensembles across the country have had to find new ways to make music together to keep our singers and audiences safe. While we yearn deeply for a return to in-person performances, there are some bright spots. For one, it has become incredibly clear how vital the opportunity to sing with each other and to build community through music-making is for so many of our Santa Clara University students and alumni. In the midst of zoom classes, uncertain career prospects, and the stressors of different living situations and other insecurities, music can continue to serve as a refuge—a different kind of place for creative expression, friendship, and common purpose.

Listen
---
Jazz Concert

Jazz Band & Combos invited all listeners to take in the magic of these colorful performances. From classic to contemporary, they explore the intricacies of jazz across the ages. Students each recorded material in a collaborative process to generate this show. In weekly meetings, the students had an opportunity to critique each other's work and share their personal experiences. According to our Director of Jazz Studies, Carl Schultz, "this program covers a wide range of sights and sounds that arose from the individual voices involved in their creation. We hope that some of the new ideas generated in this process can remain when we can make music in person. Whether it is working with our vocal students in new ways or collaborative pieces with our students that participate in SCLOrk, I hope that this concert will show us possibilities for our future together." Please enjoy the sounds of this performance.
---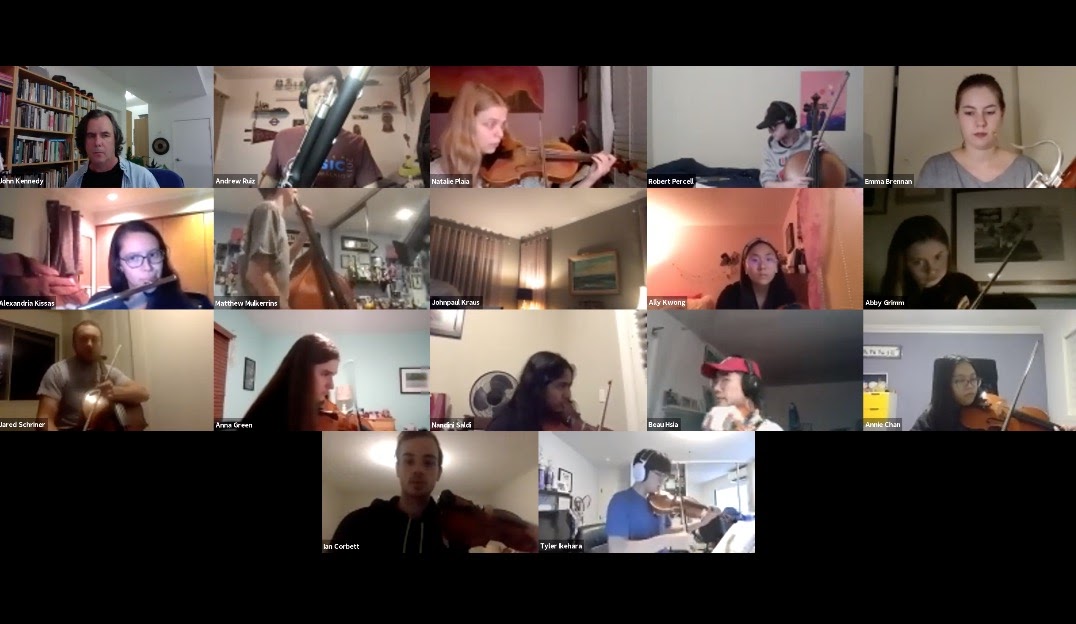 University Orchestra

The University Orchestra had a full and engaging Fall Quarter as a virtual ensemble under the direction of John Kennedy. The orchestra completed four recording projects which were featured in their early January digital program. Two of them were contemporary "open form" compositions by Kennedy himself as well as the Canadian composer Jordan Nobles (which are effective in the virtual format because of the asynchronous time component), exploring drones and the overtone series, as well as expanding and contracting melodies.
The centerpiece of the orchestra's activity was recording the "Sinfonia in D" by classical composer Joseph Bologne, Chevalier de Saint-Georges, a largely-forgotten Black composer who was once the star of Paris' musical scene. The students also engaged in an independent orchestral excerpt project, learning pieces from Bach and Mozart to Ravel and Glass.
---
SCLOrk

The chamber music formation of the Santa Clara Laptop Orchestra (SCLOrk) has remained active throughout the pandemic, rehearsing virtually using cutting edge technology that allows players to perform in real time from their homes. In October 2020, SCLOrk performed live at the Twin Pandemics Forum, an interdisciplinary event responding to COVID-19 and racial injustice, held in conjunction with National Arts and Humanities Month. The performance was an audio-visual collaboration with Art & Art History faculty Qiuwen Li. Then in December, the group performed at the CODAME Art+Tech Festival.

Listen
---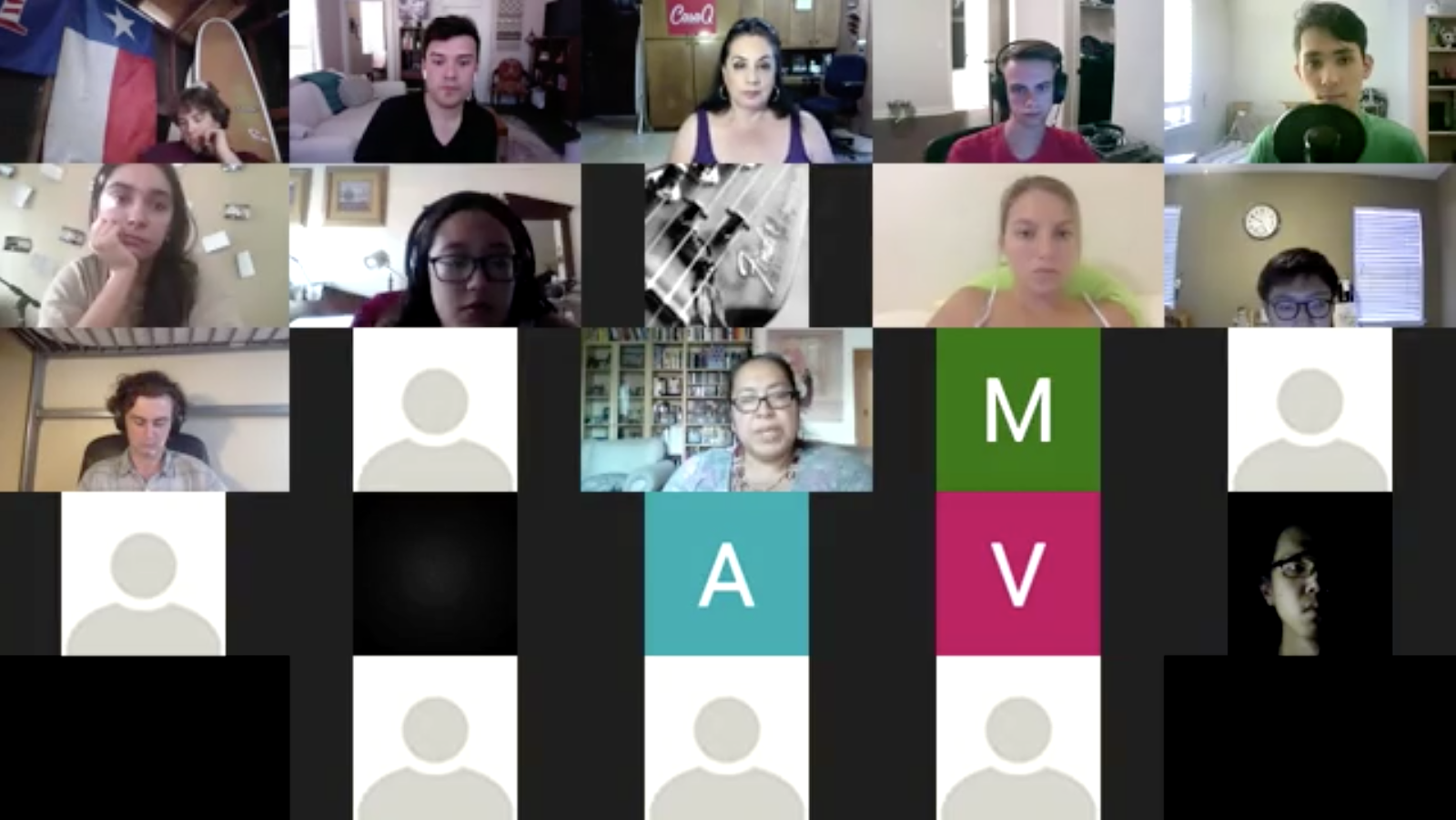 Music in the Community

Prior to Fall 2020, Music in the Community rotated between three target communities: Incarcerated Youth, Homeless Women, and Veteran Women. In Fall 2020, we added Racial Justice to the mix.
John Kennedy

John's music was included in Pacific Northwest Ballet's season-opening digital program. An excerpt from the ballet "One Body" used Kennedy's music of the same title, with choreography originally made by Albert Evans, of New York City Ballet, for Peter Boal.
Christina Zanfagna

Christina wrote an essay entitled "The Keepers of Flamenco: How a Roma Tradition Became One of Spain's Most Famous Exports" for Stranger's Guide. In it, she explores the Gitana dancers that continue to nurture this complex tradition in addition to its recent appearance on international pop music stages. Read More
Ray Furuta

Ray Furuta was announced as a 2021 Creative License Ambassador for the City of San Jose on October 1, 2020. This role was founded in 2019 to champion the power of creative expression and engage residents in finding his or her own creative voice. Prof. Furuta will launch a project centering around an interactive platform involving multiple community-based organizations and artists to break down siloed barriers between artistic disciplines. Read More
Santa Clara University
Department of Music
500 El Camino Real, Santa Clara, CA 95053
Phone: 408.554.4428
music@scu.edu