Message from the Chair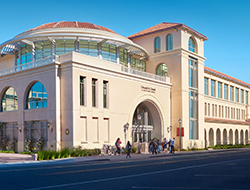 With great pleasure, I write to you from the Edward M. Dowd Art and Art History Building! The spotlight is now shining on our wonderful new studio workspaces, custom designed art history classrooms, and state-of- the-art gallery. My deepest thanks to our alumni, parents, friends and neighbors, who not only made this building possible, but continue to support our visual arts programming and scholarship activities in this new home through our department gift fund.
With our prominent new location in the Arts District on campus, our exhibitions and programs are readily accessible to everyone interested in the visual arts. I hope you will join us for these scheduled activities. Most recently, your generosity made possible the spring 2016 exhibition, Photographic Stories told from The Rwanda Orphanage Project, co-sponsored by College of Arts and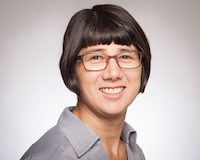 Sciences Center for the Arts and Humanities, giving rise to a successful collaborative project, featuring Santa Clara University student poets and actors.
Additionally, this past summer, Ciaran Freeman '18 attended a six-week workshop in Colorado to study advanced metal sculpting techniques using a CNC (Computer Numerical Control) plasma cutter.
Kathy Aoki
Chair, Department of Art & Art History
---
A Celebration of the Arts
By Kathleen Maxwell

While it is no secret that the department needed a new building, none of us anticipated that it would be so beautiful.

Read More »

Amer Kobaslija
By Kelly Detweiler

Our first visiting artist, Amer Kobaslija exhibited his work in our gallery for the entire winter quarter.

Read More »

East-West Encounters in the Visual Arts
By Chiara Gasparini

Based on a final project, this exhibition showcases the universality of religion through the visual exploration of female divinities across seven distinct cultures.

Read More »

2016 Student Awards


Congratulations to the 2016 recipients of Art History, Studio Art, CIVA Internships, Sullivan Scholarships and Benson Purchase awards.

Read More »

SCU Student Art League
By Julie Hughes

Meet Ciaran Freeman, SCUSAL President of the SCU Student Art League.

Read More »

James Elkins
By Tobias Wofford

Problems Teaching Visually Across the University

The first of a series of lecture events featuring renowned art historian and theorist James Elkins.

---

Congratulations to the Art and Art History Majors Class of 2016!

From left to right: Susanna Antony Raj, Grace Ogihara, Alex Rossetti, Courtney Griffith, Hannah Baker, Celia Schaefer, Leigh Pond, Helena Alfajora. Majors not pictured: Tess Cooper, Jordan Humble, Tiancheng Shen, Olivia Siverts and Kate Yanish.
Alumni: We would love to hear from you! Send us your current career information and recent personal or professional achievements. For questions email us.
Have an idea for a story? Have exciting news you'd like to share?
Join the conversation.
Upcoming Events in the Art and Art History Gallery

Honoring the Legacy of David Park Curated Exhibition

Today thru April 28

Studio Art Senior Show

May 5 to 24 (Reception May 12, 5 PM)

Art History Student Research Symposium

3 PM (Reception May 12, 5 PM)

Student Juried Show

Gallery hours: M-F, 9 AM-4 PM. To hear about all our events, join our email list.
Santa Clara University
Department of Art and Art History
500 El Camino Real, Santa Clara, CA 95053
Phone: 408.554.4594
artinfo@scu.edu