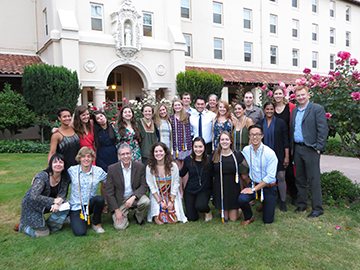 We hope your 2016 is going well! We have had an exciting and productive academic year in Anthropology! We have had a lot of fun this past year with our annual banquet (involving a competitive and exciting game of Anthropology Heads Up), a successful Anthropology and Sociology Undergraduate Research Conference, and many wonderful accomplishments by our Santa Clara University anthropology undergraduates. Morris Kim (Anthropology, 2015) was awarded the Nobili Medal, annually presented to the male student graduate judged outstanding in academic performance, personal character, school activities, and constructive contribution to the University by the faculty and the provost. Please see our student award section for our annual Anthropology awards.;
We are really excited to report recent publications that have involved SCU students and alumni. Dr Kealhofer worked with Morris Kim and Maxine DeVincenzi to publish "Phytoliths in Chinese foxtail millet (Setaria italica)" in the journal Review of Palaeobotany and Palynology. Dr. Lee Panich has recently published work on obsidian artifacts from the Mission Santa Clara. He worked with several student research assistants to identify the geographic sources of 1020 obsidian artifacts that have been recovered on campus. Dr. Panich argued that Mission Santa Clara Native peoples maintained access to sources outside of the mission walls.
Dr. Mary Hegland's book Days of Revolution: Political Unrest in an Iranian Village continues to receive high praise in the form of book reviews and book awards. She was recently awarded the Gold Medal (World History Category) in the 2015 Independent Publisher Book Awards (IPPYs) and the Alpha Sigma Nu Book Award, sponsored by the Alpha Sigma Nu and the Association of Jesuit Colleges and Universities. We are also excited to announce that she was invited to become a Fellow at the National Humanities Center during the academic year 2016-17 where she will work on her book on religion, rituals and politics in an Iranian settlement. We are also looking forward to the release of Dr. Matt Jobin's second book in the Nethergrim Series, The Skeleth. It will be available in hardcover and Kindle on May 10, 2016. His first book The Nethergrim continues to receive accolades including New York Public Library's list of Best Books for Teens and Texas Library Association's 2015 Lone Star Reading List.
This year, we welcomed a new academic year lecturer to the department, Dr. Patrick Gallagher. Dr. Gallagher received his PhD from Stanford University. He examines environmental conservation in Coastal Belize and is teaching Introduction to Cultural Anthropology, Environmental Anthropology, Anthropological Methods, and Political Anthropology.
We are looking forward to many exciting departmental changes. The College of Arts and Sciences has welcomed a new dean, Dean Debbie Tahmassebi. She is working hard to raise money for all of our departments and recruit new faculty! We will welcome a new faculty member in biological anthropology beginning in September 2016. In addition, we are examining our own curriculum and learning outcomes that will culminate in an external review of our program during Fall 2016.
We look forward to hearing more from our alumni, please find us on LinkedIn and Facebook.
Happy 2016!
Michelle Bezanson
Chair, Department of Anthropology