Note from the Chair
Dear Alumni and Friends,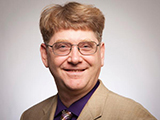 As it was in the Spring, the work of the Religious Studies community has continued to be dominated by the COVID-19 pandemic. Both our faculty and students adapted to teaching and learning in a fully online environment during the Spring 2020 quarter. Since teaching online was a new experience for most of our faculty, many of us took courses on online teaching over the summer. The Fall 2020 quarter was also an online only quarter for us. This time, the quarter went much more smoothly since we all have had more experience with this. We were also fortunate to have two new faculty members join us. They include Cathleen Chopra-McGowan and Daniel Morgan, two new hires in the areas of Hebrew Bible and Islam in South Asia, respectively. This current academic year, we were also fortunate to be able to bring on Katia Moles, who taught a class for us in Spring quarter. We also had four faculty retire at the end of the 2019-20 academic year, namely Paul Crowley, S.J., Diane Jone-Pace, Fred Parrella and David Pleins. Unfortunately, Father Crowley passed away shortly after his retirement. We also just learned that another faculty member has retired, Francis Smith, S.J. We have stories about them in this issue of Perspectives. We hope that 2021 will bring an end to the pandemic, and we wish you a healthy and safe new year.
David Gray
Chair, Religious Studies Department
Cathleen Chopra-McGowan

RS Department welcomes biblical scholar Cathleen Chopra-McGowan.

Read more
Katia Moles

Katia Moles brings unique interdisciplinary expertise to RS Department.

Read More
Daniel Morgan

RS Department welcomes Daniel Morgan, South Asian Languages/Civilizations/History scholar.

Read More
In Memoriam: Paul G. Crowley, S.J.

Paul G. Crowley, S.J., the Santa Clara Jesuit Community Professor, passed away on August 7, 2020, after a long illness. Father Crowley joined the SCU faculty after joining the Jesuit Order in 1986.

RS Conversations: Race & Religion in America

Professors Karl Lampley and Jim Bennett led a discussion covering the significance of historical relationships between race and religion in the United States.

Virtual Welcome Back Mixer

Religious Studies faculty, majors, and minors join in for the first virtual mixer of the year
Religious Studies Department Honors Five Faculty as they Retire in 2020

Paul Crowley, S.J., Diane Jonte-Pace, Frederick Parrella, David Pleins, and Francis Smith, S.J. retire as distinguished Professors Emeritus/Emerita.
Graduate Program in Pastoral Ministries News

Joe Morris is happy to announce that Paul Schutz and Bill Dohar will be joining us as Interim Associate Directors of the Graduate Program in Pastoral Ministries.

Read More
Eugene Schlesinger discussed his research on sacrifice in his interview with Santa Clara Magazine.

Read More
More faculty updates from Teresia Hinga, Jaime Wright, Fred Parrella, Katia Moles, Bill Dohar, and David DeCosse. Read More
Reading Camus' The Plague in a Time of Pandemic

RS student Georgina Chavez '21 recounts interscholastic meeting discussing pandemics, social injustices, and human nature.

Read More
Beverly Olivo '16

Bev earned her degree after raising a family. She recently retired from SCU's Leavey School of Business.

Read More

Annie Selak '05

Annie recently defended her dissertation, "Toward an Ecclesial Vision in the Shadow of Wounds," completing her doctorate in systematic theology at Boston College. She now works at Georgetown University as Associate Director of the Women's Center.

Jessica Coblentz '08

Jessica gave a lecture on Mother Teresa & mental health stigma in October.

Read More
We would love to hear from you! If you have any news or memories to share (tell us your best RS story!), would like to update us about your current life and work, or have any ideas for RS programs and initiatives, please email religionteam@gmail.com.
You might include a story or photo of a recent event, or just let us know about your current location, career, or thoughts. Thank you!