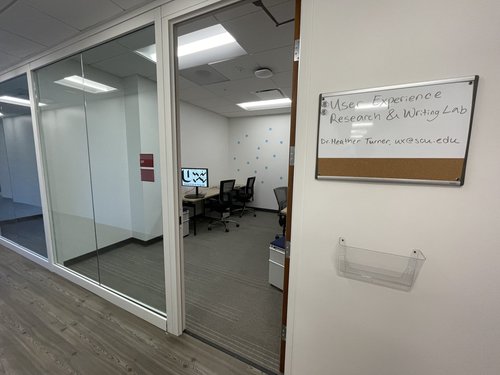 User Experience Research & Writing (UXR&W) Lab
The UXR&W Lab is an interdisciplinary facility located in Heafey 227. Our mission is to make information more accessible, technology more usable, and experiences more inclusive. We connect students, faculty, and staff from all departments and colleges to support understandings of UX across diverse contexts.
Our work
Image link to full article

Through a user experience design internship, English major Mara Strong '20 found her place in Silicon Valley.
Our Team
Research Assistant
Emersyn Caulder is a junior researcher from Sacramento, CA, blending her passions for psychology and design at the UX Research & Writing Lab. She is educated in developmental, cultural, and behavioral psychology and has practice in research methods, statistical analysis, and studio art. She places importance on caring for both the mind and body to advocate for mental health and human rights. In her free time, she plays basketball and volleyball and paints oil landscapes. She will earn her bachelor's degree in psychology and studio art in June 2023 and pursue a career in UX design.
Research Assistant
Andreana Margaritis is a junior researcher from Seattle Wa, with passions in psychology, design, and business marketing. She is a strong communicator, leader, and creative designer with interests in entrepreneurship, mental and physical wellness, art, film and creating peaceful environments. Overall she is extremely empathetic and in tune with emotions which leads to a strong understanding of human behavior and makes her a good problem solver. Outside of academics she spends her time listening to music, rowing, watching basketball, and staying connected to Greek culture. She will earn her B.Sc in marketing with minors in entrepreneurship and retail studies in June 2023