Students Today, Broncos Forever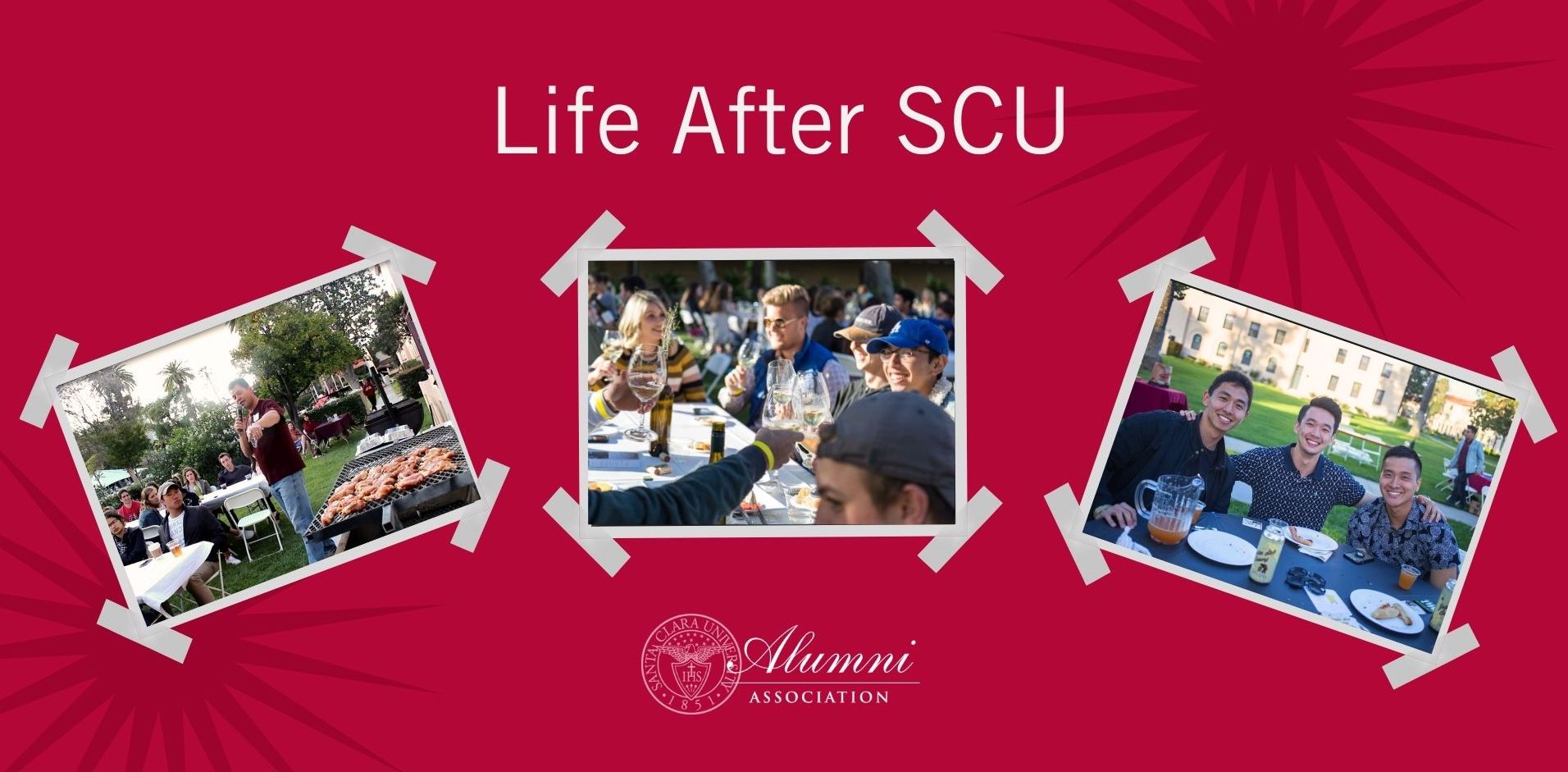 Class of 2023: Welcome the the Santa Clara Alumni Family!
Every spring, SCU alumni experts come back to campus to share some tips, tricks, and knowledge that'll help you thrive when you graduate in June. Over the five sessions, you'll learn how to taste wine, become a BBQ expert, tap into craft beer, and network with young alumni. Celebrate with your classmates every Thursday evening from April 27 to May 25 at Bannan Alumni House and raise a glass (or a skewer) to the class of '23 and your new alumni family!

*To inquire about financial assistance, please contact us at LASCU@scu.edu.
Cocktail Making

Thursday, April 27
6 - 8 p.m. | Bannan Alumni House
$10 per person
Join alumna Casey Xuereb '19, @CityGalCocktail on IG, as she guides you through the essential skills to mix a delicious cocktail.
Wine Tasting & Charcuterie Boards

Thursday, May 4
6 - 8 p.m. | Bannan Alumni House
$10 per person
Cheers! We're sipping wine and laying out charcuterie boards (chef's kiss) at your next gathering with alumni experts. John '89 and Jerome Periera '90, in collaboration with foodies Maureen Muscat '91, MBA '99 and Trelawney Pereira '91, are back on campus to give you the scoop on wine tasting and building the perfect charcuterie pair.
CANCELED: Happy Hour with Young Alumni

Thursday, May 11
6 - 8 p.m. | Bannan Alumni House
$10 per person
We're bringing back a group of young alumni to share their experiences of navigating the first few years after SCU, kick-starting their careers, exploring new environments, and staying connected to SCU. Enjoy drinks, food, and great conversations!
Beer Education

Thursday, May 18
6 - 8 p.m. | Bannan Alumni House
$10 per person
Get ready to be the expert next time you're picking a beer flight. Tap into craft beer culture with alumni expert, Taylor Thorn '08, MBA '15, and taste your way through the beer rainbow.
BBQ Basics

Thursday, May 25
6 - 8 p.m. | Bannan Alumni House
$10 per person
Fire up the grill! Learn how to host a BBQ that'll keep your friends coming back, whether they're meat lovers or vegetarians! Pitmasters Lenore '86 and Lloyd Grant '86 are prepping the coals and getting ready to share the secrets of the skewer.